This site provides a collection of skyscrapers in the United States and enables you to browse them by city, architect and various other properties. While much of the skyscraper data should be accurate, it is not necessarily comprehensive, up-to-date or complete. This site was built to serve as a demonstration of ProcessWire in addition to providing insight into US skyscrapers. Read More
Featured Skyscrapers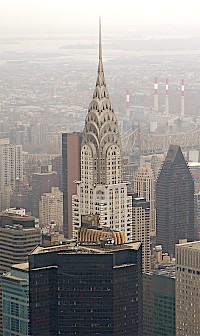 1047
feet
77
floors
1930
year built
The Chrysler Building is an Art Deco skyscraper in New York City, located on the east side of Manhattan in the Turtle Bay area at the intersection of 42nd Street and Lexington Avenue. Standing at 319 metres (1,047 ft), it was the world's tallest building for 11 months before it was surpassed by the Empire State Building in 1931.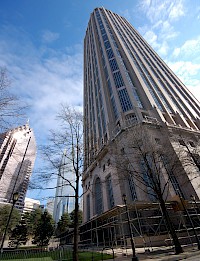 820
feet
50
floors
1987
year built
One Atlantic Center, also known as IBM Tower, is a skyscraper located in Midtown Atlanta. It is the third-tallest in Atlanta, reaching a height of 820 feet (250 m) with 50 stories of office space. It was completed in 1987 and remained the tallest building in Atlanta until 1992, when it was surpassed by the Bank of America Plaza, which was also built in Midtown. It was also the tallest building in the southeastern U.S. at the time of completion, surpassing the Wachovia Financial Center in Miami.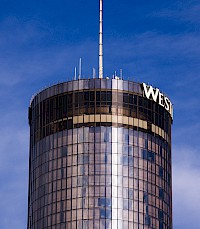 722
feet
73
floors
1976
year built
The Westin Peachtree Plaza Hotel is a skyscraper and hotel in downtown Atlanta, Georgia, on Peachtree Street adjacent to the Peachtree Center complex and the former Davison's/Macy's flagship store. It is 220 meters (723 feet) tall, and rises 73 stories from ground level. Its diameter is 188 ft (57 m). It is the second-tallest all-hotel skyscraper in the Western Hemisphere.
Skyscrapers by City