Search Summary floors 64
Skyscrapers 1 to 3 of 3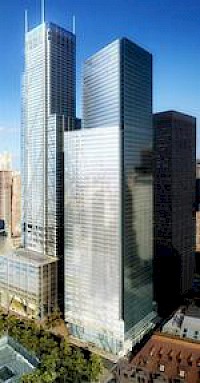 975
feet
64
floors
2013
year built
150 Greenwich Street is the address for a new skyscraper being erected as part of the World Trade Center reconstruction in New York City. The office building has also been referred to as Four World Trade Center and will be on the east side of Greenwich Street, across the street from the original location of the twin towers that were destroyed during the September 11, 2001 attacks.

994
feet
64
floors
1990
year built
Two Prudential Plaza is a super-tall skyscraper that was built in the Loop area of Chicago, Illinois, United States in 1990. At 995 feet (303 m) tall, it is currently the sixth-tallest building in Chicago and the thirteenth tallest in the United States. The building was designed by the firm Loebl, Schlossman & Hackl, with Stephen T. Wright as the principal in charge of design.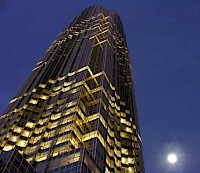 902
feet
64
floors
1983
year built
The Williams Tower (formerly the Transco Tower) is a skyscraper located in the Uptown District of Houston, Texas. It was designed by architects Philip Johnson and John Burgee, in association with Houston-based Morris-Aubry Architects, and erected in 1983. The tower is among Houston's most visible buildings. The building is the 4th-tallest in Texas, the 22nd-tallest in the United States, and the 80th-tallest building in the world.
The selector used to find the pages shown above is:
template=skyscraper, limit=10, floors=64, sort=name, status<1024