Search Summary height 396
Skyscrapers 1 to 3 of 3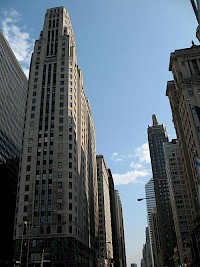 396
feet
34
floors
1928
year built
333 North Michigan is an art deco skyscraper located in the Loop community area of Chicago, Illinois in the United States. Architecturally, it is noted for its dramatic upper-level setbacks that were inspired by the 1923 skyscraper zoning laws.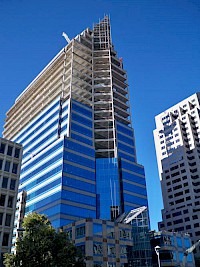 396
feet
25
floors
2009
year built
The Bank of the West Tower, also known as 500 Capitol Mall, is a 25-story 433,508-square-foot (40,274.2 m) high-rise in downtown Sacramento, California with a 10-level, 800 stall parking garage. The building consists of a 5-story atrium/lobby, ground floor retail, office space, and a 2-level penthouse restaurant or meeting facility. The structure has a steel frame and features a granite curtain wall with stone-on-precast and stone-on-truss panels on the exterior.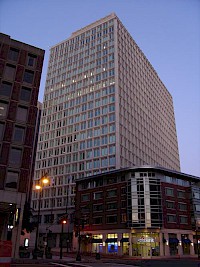 396
feet
22
floors
1971
year built
The Leverett Saltonstall Building is a high-rise building located in the Government Center district of Boston, Massachusetts. The building stands at 396 feet (121 m) with 22 floors, and was completed in 1971. It is tied with One Devonshire Place and Harbor Towers II as the 28th-tallest building in Boston. The architectural firm who designed the building was Emery Roth & Sons. The Saltonstall Building is notable for its distinctive International style archiecture.
The selector used to find the pages shown above is:
template=skyscraper, limit=10, height=396, sort=name, status<1024