Search Summary year 1897
Skyscrapers 1 to 3 of 3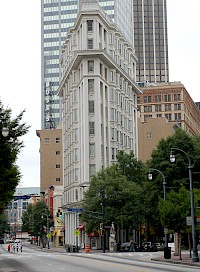 ??
feet
11
floors
1897
year built
The Flatiron Building in Atlanta, Georgia, officially known as the English-American Building, is a flatiron building completed in 1897. The English-American Building is located at 84 Peachtree Street in downtown Atlanta, on the wedge-shaped block between Peachtree Street NE, Poplar Street NW, and Broad Street NW, also creating a one-block break in Williams Street. It was completed five years before New York's Flatiron Building, and shares a similar prominent flatiron shape as its counterpart.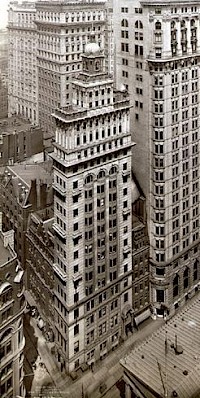 273
feet
20
floors
1897
year built
The Gillender Building was an early 20 story skyscraper in the Financial District of New York City. It stood on the northwest corner of Wall Street and Nassau Street, on a narrow strip of land along Nassau Street measuring only 26×73 feet (about 8×22 meters). At the time of its completion in 1897 the 273 feet (83 meters) tall Gillender Building was, depending on ranking methods, the fourth or the eighth tallest structure in New York.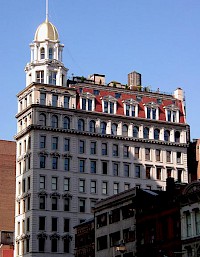 ??
feet
13
floors
1897
year built
The Sohmer Piano Building (or Sohmer Building) is an 1897 Beaux-Arts building located at 170 Fifth Avenue at 22nd Street, in the New York City borough of Manhattan, just southwest of the Flatiron Building. Designed by Robert Maynicke, it is easily recognizable by its gold dome. Sohmer & Co.
The selector used to find the pages shown above is:
template=skyscraper, limit=10, year=1897, sort=name, status<1024