Skyscrapers 1 to 3 of 3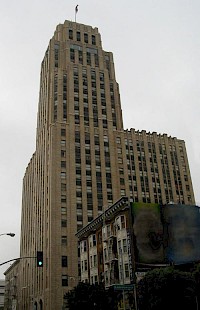 308
feet
28
floors
1930
year built
100 McAllister Street is a residential apartment tower located in San Francisco, California, owned and operated by the University of California, Hastings College of the Law. It includes mixed-use offices on various floors, and on the 24th floor, San Francisco's first cocktail lounge with a panoramic view: the Art Deco-style "Sky Room". Conceived as an unusual combination of a large church surmounted by a hotel, construction of the building brought architectural dispute.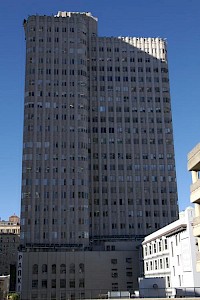 344
feet
26
floors
1929
year built
450 Sutter is a 26-floor office tower located in San Francisco, California. It is known for its unique "neo-Mayan" Art Deco design by architect Timothy L. Pflueger. The building's vertically faceted exterior later influenced Pietro Belluschi in his similarly faceted exterior of 555 California, the former Bank of America Center completed in 1969. Currently, the building is used for dental, medical and professional offices.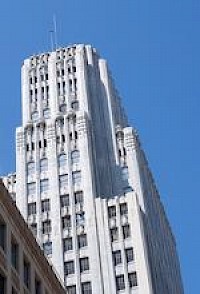 436
feet
26
floors
1925
year built
The PacBell Building or 140 New Montgomery Street in San Francisco's South of Market district is a Neo-Gothic, 435 feet (133 m) office tower located close to the St. Regis Museum Tower and the San Francisco Museum of Modern Art. The 26-floor building was completed in 1925 and was San Francisco's first significant skyscraper development when construction began in 1924. The building was the tallest in San Francisco until the Russ Building tied its 435 foot (133 m) height two years later in 1927.
The selector used to find the pages shown above is:
template=skyscraper, limit=10, architects=/architects/timothy-l-pflueger/, sort=name, status<1024