Skyscrapers 11 to 13 of 13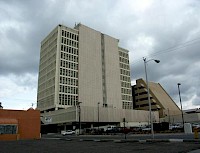 184
feet
12
floors
1974
year built
The PNM Building is a 12-story office tower located at 414 Silver Avenue SW in downtown Albuquerque, New Mexico. It is 56 m (184 ft) tall, making it the eighth tallest building in the city. Built in 1974, it replaced the old Public Service Company building at 420 Central SW as PNM Resources's headquarters. The building is part of the Alvarado Square complex, which consists of the 12-story PNM tower and a shorter structure across the street on the north side of Silver Avenue.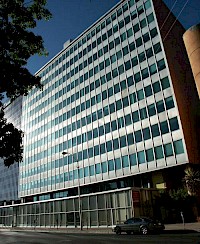 180
feet
13
floors
1954
year built
The Simms Building in downtown Albuquerque, New Mexico was the city's first modern, International Style skyscraper. It was built in 1954, making it a contemporary of the similar Lever House in New York City. The building is located at 400 Gold Avenue SW, which was originally the location of the old sandstone Commercial Club building.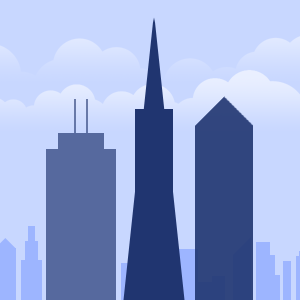 351
feet
8
floors
2010
year built
The Residences at Packard Place is a proposed two-tower, thirty-story, commercial-residential tower in Downtown Albuquerque. The Residences at Packard Place is slated to be taller than the 351-foot (107 m) Albuquerque Plaza Office Tower, therefore becoming the tallest building in the state of New Mexico. Packard Place will change the skyline of Downtown Albuquerque. This building consists of two towers, which will have 30,000 square feet (2,800 m) and 408 residences.
The selector used to find the pages shown above is:
limit=10, parent=/cities/albuquerque/, sort=name, status<1024