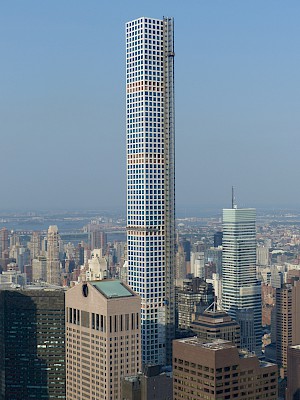 About 432 Park Avenue
432 Park Avenue is a supertall residential skyscraper in Manhattan, New York City. Originally proposed to be 1,300 feet (396 meters) in 2011, the structure topped out at 1,396 ft (426 m). It was developed by CIM Group and features 104 condominium apartments. Construction began in 2012 and was completed on December 23, 2015. The building has been much maligned by many city residents who find it an eyesore and believe it represents New York's increasing cost of living and ostentatious wealth.
The building required the demolition of the 495-room Drake Hotel. Built in 1926, it was purchased for $440 million in 2006 by developer Harry Macklowe and razed the next year. Its footprint became one of New York's most valuable development sites due to its location, between East 56th and 57th Streets on the west side of Park Avenue.
As completed, 432 Park Avenue is the third tallest building in the United States, and the tallest residential building in the world.[9] It is the second tallest building in New York City, behind One World Trade Center, and ahead of the Empire State Building.
See Also